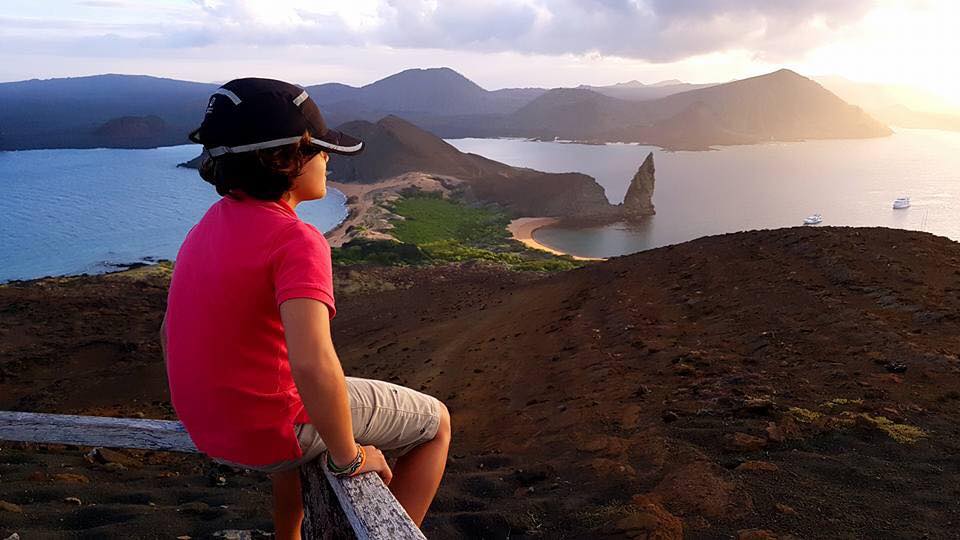 If you are looking for a great adventure holiday vacation for your family the Galapagos Islands are a perfect choice. Family holiday travel is better than toys. As I told my son, it is more important in life to collect experiences rather than things. Vacations with family allow you and your children the opportunity to explore the world and collect experiences. The Galapagos Islands is a wonderful location to do just that.
The Galapagos is a great place to introduce your family to wildlife. While visiting the Galapagos Islands there are opportunities to interact with the endemic wildlife found nowhere else on earth as well as native species. The unique flora and fauna offer a special natural experience. As a land-based visitor, you can have close encounters with the Galapagos giant tortoise. View the northernmost penguin in the world. When you see the Galapagos marine iguana and land iguana you will think you have traveled to the land of the lost. The Galapagos Islands can inspire new bird watchers where you can observe some of the rarest birdlife in the world.  The Galapagos dove is a resident on Santa Cruz Island. You can also watch Blue-footed boobies fish in the bay and the Galapagos night heron walk the streets of Puerto Ayora.  Galapagos is home to 12 species of Darwin finches. The endemic Scalesia forest in the highlands of Santa Cruz Island is host to both birds and plant life.
The Galapagos is a wondrous place to snorkel and scuba dive.  Waters surrounding the Galapagos are teeming with life. The curious Galapagos sea lion is fun to encounter while in the water and to share the beach with while they nap. If you are interested in sharks, the Galapagos marine reserve has the highest concentration of sharks in the world. You can observe serval different species while visiting. There are many colorful tropical fish to discover in the Pacific waters surrounding the Galapagos Islands. 
The volcanically formed the Galapagos Islands have many opportunities to explore unusual geological formations.  Enjoy the breathtaking view of the Pinnacle rock on Bartolome Island. Explore lava tunnels and sinkholes.  The younger islands have active volcanos.
While experiencing the amazing flora and fauna of the Galapagos Islands, your family can also enjoy the local culture of the friendly island community in the Galapagos Islands. There are several great restaurants on Santa Cruz where your family can try local cuisine and enjoy local products such as fresh produce, grass-fed beef, artisan caught seafood, and organic coffee.  The Galapagos Islands offers many memorable experiences for your family to collect. We are looking forward to your visit. 
Donna Daugherty is a long time permanent resident of the Galapagos Islands.  She has worked as a consultant for the Charles Darwin Foundation and is a founding member of Ambiente Independiente. She is an entrepreneur owning and developing businesses for over 20 years. The owner of Torre Mar Galapagos Apartment Hotel serving guests in Galapagos.