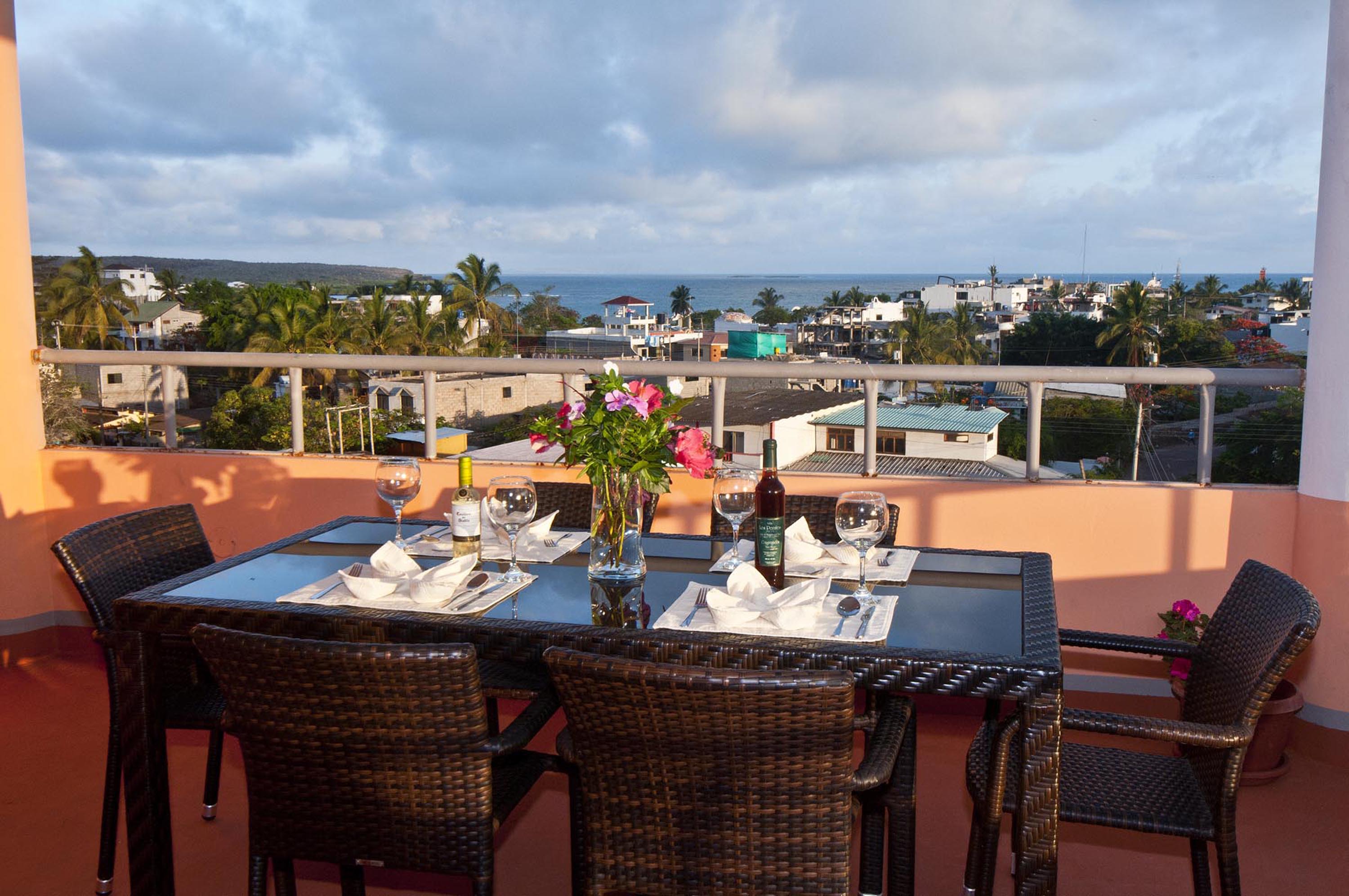 Torre Mar Galapagos Suite Hotel
If you are looking for a group location, look no farther.  Torre Mar Galapagos Suites Hotel is the perfect choice for a large family or group traveling to Galapagos for a land-based adventure. Torre Mar Galapagos Suites Hotel is conveniently located centrally in the port town of Puerto Ayora on Santa Cruz Island. Our location is close to the main dock, shops, markets, and restaurants.  Santa Cruz Island is centrally located in the archipelago of Galapagos, making it an excellent base for your Galapagos experience.  Santa Cruz is the only island that you can travel to and from directly to all of the other inhabited islands. Due to the central location, there are many options for day tours available from Santa Cruz to uninhabited islands.
Amenities & Services
Torre Mar Galapagos Suites Hotel offers a large ocean view social terrace fitted with dining tables, seating areas, and a gas grill that make it perfect for group meals, meetings, or socializing. Our suites also offer full kitchens with a living room. Breakfast & dinner service is available at The Terrace.  The property offers 5 suites with 8 bedrooms and 5 baths. If you enjoy hotel service and the spaciousness of a private vacation rental Torre Mar Galapagos Suites Hotel is the right option for you. The central location and the attention to detail make your stay at Torre Mar Galapagos a perfect choice for an active family adventure, a fun relaxed tropical vacation with friends, or a romantic getaway.  Reserve the complete property for a private retreat.
The bedrooms are fitted:
Bedroom 1: King bed
Bedroom 2: King bed
Bedroom 3: Two double beds
Bedroom 4: King bed or two extra-long twin beds
Bedroom 5: Two double beds
Bedroom 6: King bed
Bedroom 7: Two double beds
Bedroom 8: King bed or two extra-long twin beds
Sleeping Alcove: Single bed
Bonus beds: Single daybed and we offer rollaway beds
Torre Mar Galapagos Suites Details
5 King beds
6 Double beds
2 Single beds
Baths with Shower
600 square meter
Kitchen & Sitting room
A/C
Free Internet
cable
DVD
Flat Screen TV