It is really up to you how much or little you want to participate in activities vs. relaxing.
Saturday Morning Farmers Market
Every Saturday morning there is farmers market not too far from Torre Mar building.
Locally grown produces are offered of sale as well as produce brought from the mainland. This gives visitors an opportunity to live like a local and meet some of the Galapagos residents.
Charles Darwin Research Station
Visit the breeding center and Giant Tortoise pens located at Puerto Ayora, where you will witness the various stages of development of these world renowned, indigenous tortoises that outlive humans. While enjoying a close encounter with these impressive animals you will learn all about their fascinating life.
This can be a self guided tour or with a guide.
Lava Tunnels
A recommended visit to one of the spectacular geological works of art, allows you to witness the dawn of this island around a million years ago. You can wander your way through the cavernous lava tunnels. Visits to lava tunnels must be with a guide.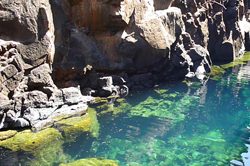 Hike to Las Grietas
Take a water taxi to "the other side" of Academy Bay and take the walking path to the Punta Estrada area. You will find a secluded white sand beach. If you continue on the hike you will find your self at Las Grietas, a volcanic formation were the seas pass through. This is an example of the islands born of fire beginnings, where lava met the sea.
This hike can be done independently or with a guide.
Los Gemelos
These large twin pit craters in the highlands, referred to as Los Gemelos, are in the highlands of Santa Cruz. Weather permitting, visitors can choose to hike through the Scalesia forest, an endemic species of cloud forest trees, where you will also see a great variety of birds. Bird watchers who would like to spend more time here can arrange a special tour to this interesting habitat.
A guided tour is recommended, but can be done independently.
Mountain Biking
The bike routes in the highlands are quite varied and so are their difficulty levels and landscapes. Tours can be arranged with local providers in Santa Cruz.
Tortoises in the wild
One of the best ways to find giant tortoises, rarely encountered in the wild, is by visiting a nearby privately owned ranch where these ancient reptiles come to search for water and juicy plants. Guided hiking, and motor driven tours are all available. (socks and walking shoes are essential)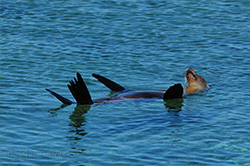 Kayaking
Enjoy a fantastic day on the water visiting the various bays in a kayak. Stop for a swim or snorkel to discover the beautiful marine world of Galapagos. This is a unique experience and enjoyable for young and old alike.
Kayaks can be rented at Tortuga Bay or from local providers.
Tortuga Bay Beach
This spectacular white sand beach is situated about 35 minutes walking distance from
Puerto Ayora. After walking through an arid aromatic palo santo forest surrounded by cacti and bird life you reach a pristine, long white sandy beach ideal for body surfing.
For great swimming and snorkeling, stroll over to the small tranquil lagoon located at the end of the beach. Watch out for pelicans, white egrets, oystercatchers, blue herons and frigate birds or take a short walk over a National Park trail, to view marine iguanas and occasionally, blue-footed boobies. Make a stop at the marine learning center just in front of the entrance. Walking shoes, hats and sunglasses are essential. A visit to this magnificent beach can be part of an organized tour or visited independently.
Garrapatero Beach
Take a 30 minute drive from town, through the small agricultural villages in the area and down to the arid coastal zone of the island. After walking along a 15 minute trail past opuntia cacti and palo santos trees you will reach one of the most exotic and beautiful beaches in the Galapagos Islands, offering a landscape of black lava bristling with pioneer cacti contrasted with shimmering white sand and a turquoise sea, safe for swimming. You can watch the blue-footed boobies and pelicans fishing in the bay, crabs scuttling into their burrows in the white sand and marine iguanas strolling along the beach, all from under the shelter of shoreline trees and bushes. Sometimes, the shy, but gorgeous pink Flamingos can be spotted in this diverse ecological environment. Walking shoes, hats and sunglasses are essential. This is a good spot for snorkeling.
This location can be visited independently or with a guide, but a return time needs to be arranged with your taxi directly before they drop you off.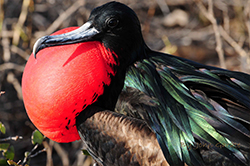 Academy Bay Tour (half day tour)
Once onboard a private chartered boat at the main dock in Puerto Ayora, the captain takes you out of the bay towards the lighthouse at Punta Estrada to view swooping blue- footed boobies, frigate birds, herons and frolicking sea lions. Continuing into Shark Bay you may spot rays, sea turtles, and observe white-tipped reef sharks. At the entrance to Academy Bay, off a small islet, you will have the opportunity to join a colony of playful sea lions in the water and perfect your "sea lion rolls." This trip can be booked with local providers.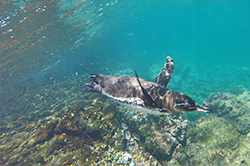 Scuba Diving
The Galapagos Islands were chosen by Rodale's Scuba Diving as the world's top all
around dive site for the year 2000. The Islands were also chosen for the top spot in
"Best Fish Life", "Best Big Animal Dive", "Best Advanced Diving" and scored among the
top as the "Healthiest Marine Environment", and "Best Value". Diving in the Galapagos
is not recommended for first-time divers. Recently, noted in one diving magazine as one of the world's 10 most difficult recreational dive sites, many dive operators in the
Galapagos take their clients on an easy initial dive to take note of their ability and let them orientate to the sometimes unexpected waters.
Recommended, local diving companies based in Puerto Ayora offer several itineraries, subject to local weather conditions. Excellent dive sites are Gordon Rocks, the islets of
Floreana, Bartholomew, Cousins, North Seymour or Mosquera. Some dive sites allow for guest pick up directly from the hotel to the dock at Baltra, while others require a 20 minute transport to the dive shop and the pier in Puerto Ayora. Beginners can take classes or restrict themselves to the tranquil waters of Academy Bay.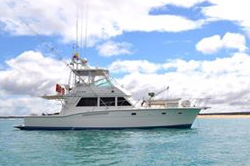 Boat Tours (full day tours)
There are several motor yachts navigating these extraordinary islands daily which provide an excellent way to discover this wildlife paradise. All boat tours include lunch and a certified naturalist guide.
Activities and Excursions